Return From Spring Break
So, I'm back from vacation and it's right back into the thick of it for me. Spent yesterday catching up on work I ignored while spending the week with my wife. Today has been all about the car. Seems I need new rear brakes, and front tires. Fun. Anyway, here's a few pictures from Spring Break.


Elvira and I spent several days in museums. We went to the Baltimore Museum of Art (The Slide Show was lame, all photographs that would have looked better printed instead of on slides), saw the
Toulouse-Lautrec
show at the National Gallery in Washington DC (Kevin joined us for this little outing. He took the above picture, in fact). And Philadelphia (if you're in Philly, check out the Dali exhibit if you can).
We also went to the Greenmount Cemetery in Baltimore and took pictures of interesting headstones and monuments, which is a hobby of ours.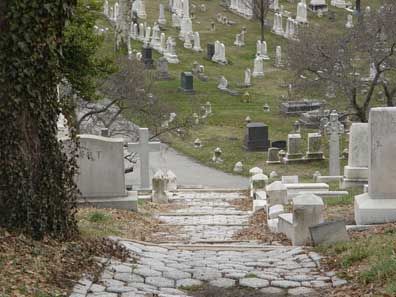 Who says Goth librarians don't know how to have a good time?