The Story That Wouldn't End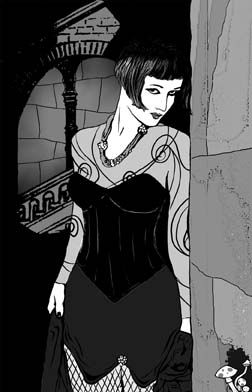 I asked Elvira what she wanted for Christmas last year and she told me, "A gothic fairy tale, with pictures." Dutifully, I started writing what I intended to be a ten page short story with a couple doodles. Something about an immortal king and a servant girl who was infinitely put upon by his idiot descendents. Then Grad School got in the way and with one thing and another, it became a birthday present, scheduled for completion by early this coming July.
Seven months and Seventeen thousand words later, I'm almost done with the story, though it's looking like it'll be about 75 pages and will have 9 full page illustrations (a small version of one of which appears to the left). I still have 2 (or maybe 4) scenes left to write and five illustrations left to draw (matters were only made all the more interesting by my birthday presnt a week ago. Elvira and my folks got me a
digital tablet
that has made drawing on the computer easier, which means their's no excuse for simple, scanned in drawings anymore, but fully rendered illustrations).
Initially, I will be making a handful of self published (and hand bound) books but fully intend to post it on an adjacent page, complete with pictures, sometime in mid July.
Alternately, if there's interest, perhaps I'll send it off to a publisher. We'll see.
Update: 1/30/06
Six Eight months later. The book is written (92 pages, or 30k words). Most of the illustrations are done. The move, the new job, the hiatus and the holidays all slowed me down. But the final product should be done... soon. Like, two, three weeks, tops.